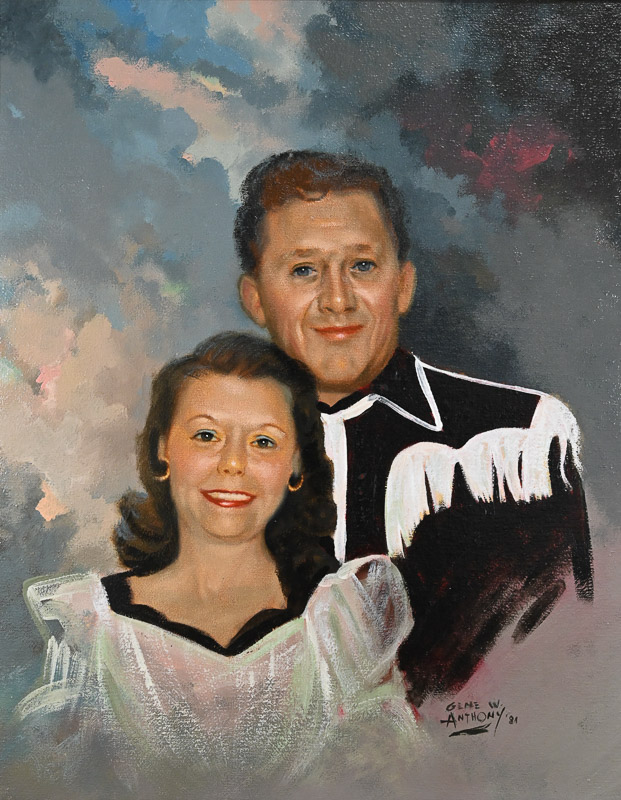 Ralph and Eve Maxhimer, 1981
Bob Osgood's text as it appeared in
Sets in Order / Square Dancing magazine
Ralph and Eve Maxhimer
Occasionally there have been men and women whose influences go far beyond the boundaries of their own community, whose guidance and enthusiasm for the activity encouraged others to become accomplished leaders. Ralph and Eve were two such individuals. Ralph's leadership background with the Los Angeles Parks and Recreation Department during the 1940s included square dancing and Ralph became one of California's pioneer square dance callers and teachers. By the end of World War II, the Maxhimers had been swept up in the rush to square dance and they quickly assumed a leadership role in the Los Angeles area. In 1947, the Maxhimers studied under the late Dr. Lloyd "Pappy" Shaw at one of his summer institutes in Colorado Springs. Returning to California, Ralph found a growing need for caller leadership development and became one of the first caller/coaches in the Western United States.
The Maxhimers helped form the Associated Square Dancers, one of California's first square dancer associations and it was Ralph and Eve's Levis and Laces, a youthful exhibition group that captured the hearts of many dancers and non-dancers and helped to set guidelines for smooth and comfortable dancing throughout the country. During the 1950s and 1960s while conducting strong home club programs, they also traveled to many cities throughout the United States and Canada putting on clinics and becoming a driving force for this growing recreation.
Always a firm proponent of the concept that rounds and squares belong together, the Maxhimers sensed a need for strong leadership in the field of round dancing and by the mid-1950s they found more and more of their time concentrated in this direction. Authors of many fine round dances, they served as round dance leaders at a number of outstanding vacation institutes. In the early 1970s, Ralph suffered the first of a number of strokes which put him out of the active dance picture. Today, he and Eve live near the ocean in Newport Beach, California. Their son, Jerry, and daughter, Javerne, and a number of grandchildren add to their pleasures in life.
The Maxhimers indeed left their indelible imprint on the activity and it is with great pride that we honor them as members of the Square Dance Hall of Fame. Their oil portrait created by noted artist, Gene Anthony, now hangs in the Sets in Order American Square Dance Society's home office in Los Angeles, along with the portraits of other round and square dance leaders from all parts of the square dance world.
(Square Dancing, May, 1981)
Ralph Maxhimer: Don't Call Me Sweetie